SOLIDWORKS Electronics Cooling Module

About Electronics Cooling Module
The Electronics Cooling Module (ECM) is available as an add-on for SOLIDWORKS Flow Simulation and provides additional materials and material models that are specific to circuit board and PCB enclosure analysis. It evaluates thermal properties and cooling requirements for standard components.
Capabilities of Electronics Cooling Module

Heatsink Selection – Choose the right heatsink based on the overall airflow and the thermal impacts of the components on the PCB.
Fan Selection – Selection and placement of the right fan is highly important to improve the thermal performance of a given design.
Product Thermal Design – Predict the thermal behavior such as heat-up/cool-down cycles and maximum temperature under load.
PCB Thermal Simulation – Evaluate component placement, use of heat pipes, thermal pads and interface materials in PCB design.
Airflow Optimization – The optimum temperature in maintained in an environment by managing airflow.
Joule Heating – Joule heating calculates the steady-state direct electric current in electro-conductive solids and is automatically included in heat transfer calculations.
Heat Pipes – Model the correct cooling approach in laptops and other space constrained or conduction cooled designs.
PCB Generators – Determine the physical properties of multi-layer PCBs by automatically obtaining the thermal conductivity values from the PCB structure and the properties of the specified conductor and dielectric materials.
Features & Benefits Of Electronics Cooling Module
Virtual Models – SOLIDOWRKS ECM has various electronic virtual models and an extensive materials library for heat transfer simulation.
Engineering database – The availability of a wide collection of IC packages, solids, fans, interface materials, thermo-electric coolers and two-resistor components.
Two Resistor Components – The two resistor compact model predicts results more accurately compared to the single resistor metrics of mono-chip electronic packages.
Industry Specific Tools – The Electronic Cooling Module has a toolset suited for specific domains to design and simulate the electronic components as per the cooling requirements.
Thermal Analysis – Understand and evaluate thermal comfort levels for various electronic components present in the environment.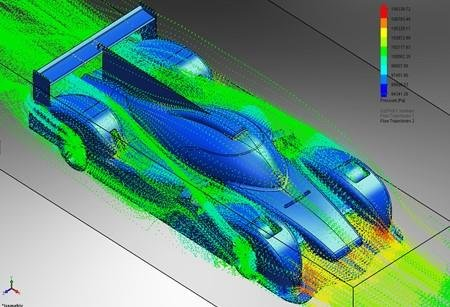 SOLIDWORKS Flow Simulation focusses on the Computational Flow Dynamics (CFD) of liquids and gases. It provides dynamic feedback on the fluid flow and thermal performance of the designed products.
The HVAC Applications Module includes the functionalities required for modeling complex heating, ventilation, and cooling systems. It provides additional capabilities for simulation of radiations and pollutants.