About SOLIDWORKS Simulation
SOLIDWORKS Simulation simulates and tests the products virtually with real world insights in order to ensure the quality and performance of products before physically manufacturing them. It can provide reliable and accurate results from basic linear static analysis to more complex nonlinear and dynamic analysis. Designers and engineers can make their technical decisions based on the results and insights provided by the simulation.
What's new in SOLIDWORKS Simulation 2022?
Use the new Linkage Rod connector to represent a wider variety of physical components. Save time preparing your model with enhanced meshing and contact definition. Solve studies faster with parallel processing enhancements and automatic solver selection.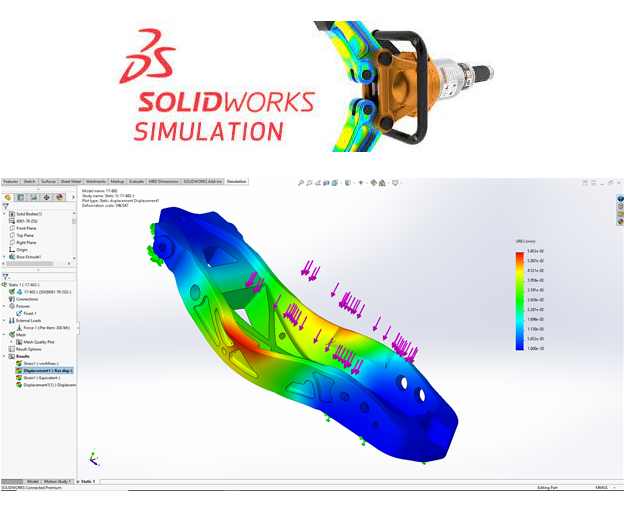 Capabilities of SOLIDWORKS Simulation
Linear Analysis – Test the designs of linear materials under for stress, strain, displacement, and Factor of Safety (FOS) results and iterate them based on the results.
Non-Linear Analysis – Analyze stresses and deformations of materials such as rubbers, plastics and other nonlinear materials.
Frequency and Vibration Analysis
Motion Analysis – Simulate the mechanical performance of the assembly and evaluate the reaction forces, position, acceleration, and velocities.
Thermal Analysis – Analyze how the thermal conditions affect the stress and displacement in a part or assembly based on the heat transfer within the parts and the environment.
Fatigue Analysis – Determine fatigue failures by examining the load cycles and understand the life span of the components.
Dynamic Analysis – Predict the Modal Time History, Harmonic Analysis, Random Vibration, and Response Spectrum of parts and assemblies.
Buckling Analysis – Evaluate the Buckling strength of a design with and without environmental loads to prevent Buckling failures.
Features & Benefits Of SOLIDWORKS Simulation

Finite Element Analysis – Presence of various analysis tools enable testing and enhancing the parts and assemblies.
Drop Test – SOLIDWORKS Simulation helps in understanding how a drop impact affects the design based on the impact surface, height, velocity, and angle of the drop.
Optimum Insights – Simulate the product prototypes before manufacturing them to obtain real world like insights.
Decrease Development Costs – Testing the products virtually significantly reduce the prototyping and manufacturing costs.
Product Efficiency – By reiterating the designs based on the data obtained by simulations and analysis, the products are optimized for the best performance.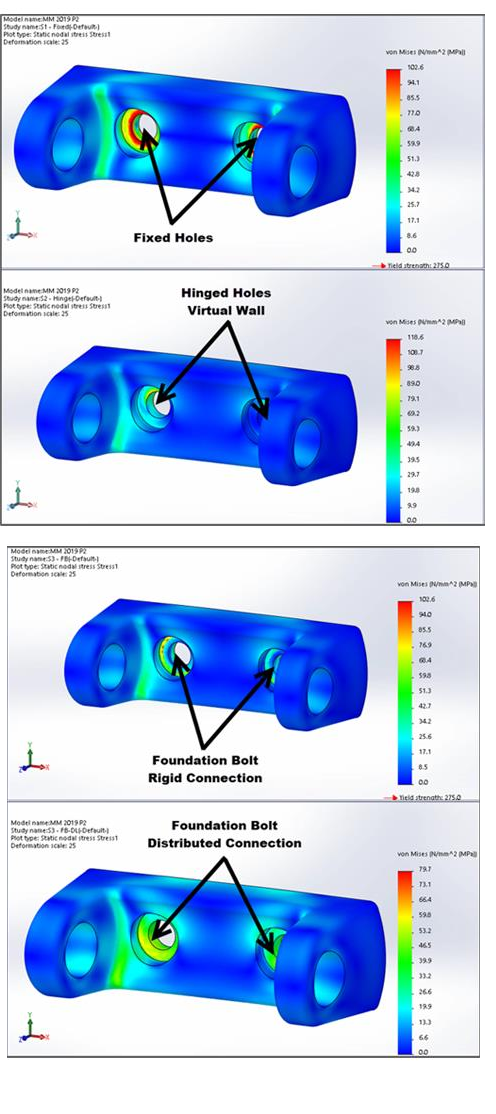 FEATURES
AVAILABLE


Finite Element Analysis

Fully Embedded Analysis

Static Stress Analysis

Linear Static Simulation for Part & Assembly

Trend Tracker

Fatigue Simulation

Time-based Kinematic Motion

Detecting Unconstrained Bodies

Communication

Contacts and Connectors

Post Processing

Design Comparison Studies

Equation Driven Results

Ease of Use

Event-Based Kinematic Motion

Topology Study

Load Case Manager

Advanced Contacts & Connectors

2D Simplification

Design Optimization

Submodeling Simulation

Thermal Analysis

Buckling Analysis

Frequency Analysis

Drop Test Analysis

Pressure Vessel Analysis

Offloaded Solving

Plastic Deformation

Residual Stress

Nonlinear Analysis

Composite Material Analysis

Dynamic Analysis

Forced Vibration Analysis
SOLIDWORKS Simulation Standard