About SOLIDWORKS Inspection
SOLIDWORKS Inspection automates the ballooning of engineering drawings and 3D files with Product and Manufacturing Information (PMI). It automatically captures inspection dimensions and also creates industry-standard inspection reports.
Capabilities of SOLIDWORKS Inspection
Automatic Balloons – Automatically add the specified balloon inspection dimensions and capture characteristic features.
Export Results – The finished drawings can easily be exported as PDF and Inspection sheets to excel files.
Any CAD system support – Inspection documents can be created irrespective of the existing CAD system.
Optical Character Recognition – SOLIDWORKS Inspection uses optical character recognition (OCR) to automatically read and identify the type of dimensions, their value and their tolerances.
Automated Data Entry – Once the parameters are set in SOLIDWORKS Inspection's templates as per the company or industry standards, the values are auto populated whenever the template is used.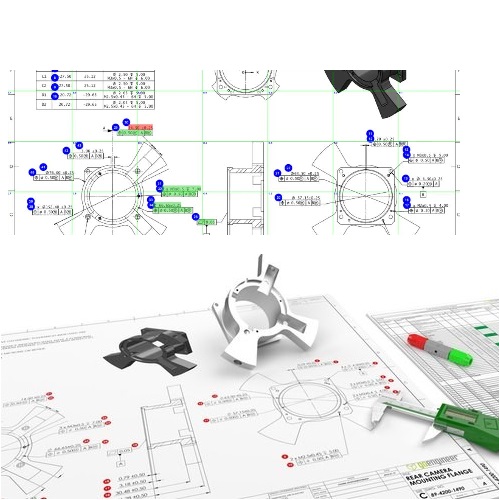 Features & Benefits Of SOLIDWORKS Inspection
Easy to use – SOLIDWORKS Inspection saves over 80% of time in creating inspection reports and ballooned drawings with an easy to use interface.
Comparison tool – Drawing revisions can quickly be compare to the originals for a quick identification of changes.
Streamlined Process – To keep track of the dimensions and characteristics to inspect, sequentially numbered balloons are applied automatically. Inspection data sheets and reports are created fast and accurately.
Custom Project Templates – The built-in template editor helps in creating and using custom project templates to be pre-configured as per the requirements.
Fast & Accurate Quality Reports – SOLIDWORKS Inspection builds ballooned drawings, first article, and in-process characteristic reports in minutes, saving so many hours for the users.
Support for Multiple File Types – SOLIDWORKS Inspection supports various file types including PDF, TIFF, CATIA's CATPart, CATProduct, CATDrawing, and 3DXML. DXF & DWG files. Reports can easily be exported to PDF, XLS, CSV or XML files.